RE-POST! Kentucky's
Hellnation
is a unrelenting force of no-holds-barred grinding fastcore. Formed back in 1988, this trio has been slaying fans with an incredibly angry and hyper mix of nonstop punk riffs
drenched in distortion, muddy, low-tuned bass and rapid-speed blasts of drum insanity! T
he drummer leads the vocals, but all three
members share the duties for the most part.
Hellnation sadly broke up in 2010 after releasing an insane amount of material and devoting to a slew of tours through the U.S., Japan, Europe & Brazil.
These guys are ridiculously intense and mind-blowing to this day! Groundbreaking and most definitely
influential
to any genre of punk and grind. Below I gathered up everything I could possibly find from these dudes. DIG!!!
Hellnation / Capitalist Casualties Split LP (2008)
Hellnation / Nice View Split 7" (2008)
Download
Dynamite Up Your Ass LP (2002)
H.S.S.R.R. : Japan Tour 3-Way Split CD (2002)
Thrash Wave : Compilation CD (1997-2001)
Download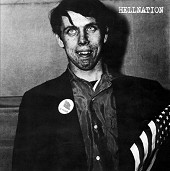 Cheerleaders For Imperialism LP (2000)
Fucked Up Mess LP (1999)
Your Chaos Days Are Numbered LP (1998)
Hellnation / C.F.D.L Split 7" (1996)
Download
Hellnation / Real Reggae Split 7" (1996)
Download
Control LP (1994)
A Sound Like Shit : Compilation CD (1993-1994)
Download
People's Temple 7" (1989)
- Thrash Wave Compilation CD includes... the split 7" w/ Merda, split 7" w/ Sink, At War With Emo 5", Homeless Benefit Comp. 7", Tomorrow Will Be Worse 4x7" & Thrash Or Die : Japanese Hardcore Covers 7"
- A Sound Of Shit Compilation CD includes... the Colonized LP, Bloodless Unreality Comp. 7", Suppression 7", Aussie 7" & an unreleased track